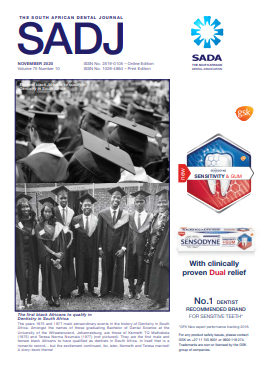 About the Cover Page
The theme for the Front Cover of the South African Dental Journal this year provides for some historical figures, some characters illuminating dental history and some important achievements in South African Dental history. The cover for November looks back to the first black Africans to qualify in Dentistry in South Africa.
The years 1975 and 1977 mark extraordinary events in the history of Dentistry in South Africa. Amongst the names of those graduating Bachelor of Dental Science at the University of the Witwatersrand, Johannesburg, are those of Kenneth TQ Mathobela (1975) and Teresa Norma Nxumalo (1977) (not pictured). They are the first male and female black Africans to have qualified as dentists in South Africa. In itself that is a romantic record ... but the excitement continued, for, later, Kenneth and Teresa married! A storybook theme!
Full Issue