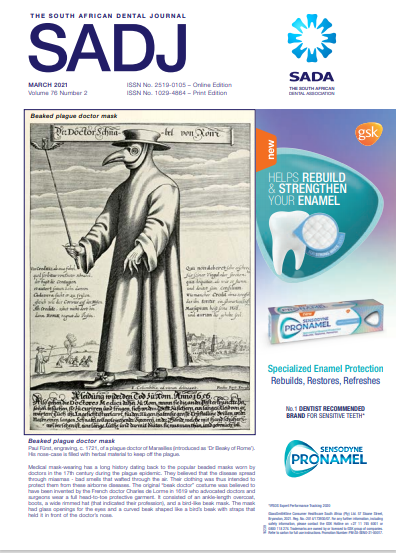 About the Cover Page - Beaked Plague Doctor Mask
Paul Fürst, engraving, c. 1721, of a plague doctor of Marseilles (introduced as 'Dr Beaky of Rome'). His nose-case is filled with herbal material to keep off the plague. Medical mask-wearing has a long history dating back to the popular beaded masks worn by doctors in the 17th century during the plague epidemic. They believed that the disease spread through miasmas - bad smells that wafted through the air. Their clothing was thus intended to protect them from these airborne diseases. The original "beak doctor" costume was believed to
have been invented by the French doctor Charles de Lorme in 1619 who advocated doctors and surgeons wear a full head-to-toe protective garment. It consisted of an ankle-length overcoat, boots, a wide rimmed hat (that indicated their profession), and a bird-like beak mask. The mask had glass openings for the eyes and a curved beak shaped like a bird's beak with straps that held it in front of the doctor's nose.
Full Issue